Over £2,370 raised through Will Aid
Hartley & Worstenholme's participation in the Will Aid Campaign in November 2009 raised an incredible £2,370 for the Charity.  With the addition of gift aid, the overall donation is likely to be approximately £3,000.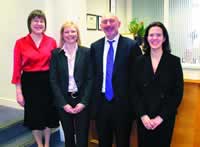 "We have been involved in the charity for over 5 years now, but are particularly delighted with the interest in this year's scheme. It is estimated that around two thirds of people in the UK die without having made a valid will, which only leads to complications for family and friends.  Schemes of this nature can encourage everyone in the local community to get their affairs in order by drawing up their will and at the same time help nine of the UK's best loved charities.", said David Gaythorpe – partner at Hartley & Worstenholme Solicitors.
The Will Aid Campaign is founded on the principle that everyone should have a will.  Without a will, when somebody dies their estate is distributed according to the rules set down in legislation.  People often think that they are OK because everything will go to their "next of kin".  However, this is not always entirely true and, even when this would be the case, the rules could be changed by the Government at any time.  The only way to be certain that you influence what happens to your property when you die is to make a will.  By engaging a solicitor to advise you and to prepare a draft will, you can be sure that you have considered all the possible consequences of leaving your estate in a particular way and that the will properly and effectively reflects your wishes.
Hartley & Worstenholme offer a complete will service at competitive prices.  To find out more, go to the Wills section on our website, www.hartley-worstenholme.co.uk, or contact David Gaythorpe on 01977 732222, email: pc@hartley-worstenholme.co.uk