Growth for local law firm
Hartley & Worstenholme Solicitors have appointed two new partners to join their expanding team.
Jonathan Sharp joined the firm in 2004 and has built a reputation as a determined and talented commercial lawyer. His practice covers all aspects of commercial property and general commercial law. Having previously worked in banking he has specific practical experience and business-like insight into client needs. He also sits on the board of a number of local voluntary organisations.
Jonathan comments: "I am delighted to have been appointed partner of Hartley & Worstenholme and I look forward to contributing to the future success and growth of the firm as a provider of excellent legal services."
Victoria Maude qualified as a solicitor in 2007, after completing her training contract with the firm. She specialises in the area of Wills and Probate.
Victoria comments: "I am very excited about being appointed as a partner of Hartley & Worstenholme. The wills and probate department has an outstanding reputation and serve clients not just in the Pontefract and Castleford area, but nationally and internationally. I am looking forward to the new challenges that partnership will bring."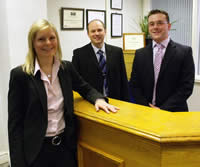 Managing Partner, Christopher Wilton, says: "We are thrilled that we are able to invite two such dedicated solicitors to become partners of the firm. Hartley & Worstenholme Solicitors continues to move from strength to strength in the provision of high quality legal services to the people and businesses in Yorkshire and beyond."
Other developments at Hartley & Worstenholme include the appointment of Paul Haslam as Practice Manager. Paul has been at the firm for over 10 years as Accounts Manager. He will oversee the firm's two offices in Pontefract and Castleford. His responsibility is to drive and manage the sizeable investment in the IT infrastructure and ambitious marketing plans that will ensure the firm can compete and continue to deliver excellent client service in the future.
For further information please contact Christopher Wilton on 01977 732222 or by email.